World Water Day in Africa
To mark it ,The Conversation Africa curated articles that provide deep dives into the precious resource, and its management, across the continent.
The Conversation Africa's Commissioning Editor for East and Francophone Africa, Moira Sooner, explains:
To start with, we focus on the Nile, a gigantic water source that flows through 11 African countries and affects the lives of a quarter of Africa's population. To both upstream and downstream countries, the Nile waters are vital for survival.
It's no surprise, therefore, that tensions have been triggered when big decisions have been made about managing and sharing the resource.
Take the Grand Ethiopian Renaissance Dam, on the Blue Nile in Ethiopia. Ever since construction began a decade ago, tensions have simmered between Ethiopia, Egypt and Sudan. But, as Mahemud Tekuya explains, this isn't the first time relations in the region have been strained by dam politics.
Looking even further back in history provides insights into how the Nile has been the inspiration for extraordinary engineering techniques. Mike Muller unpacks evidence that shows that civilisations in Egypt and the Sudan developed in response to climate pressures.
Those pressures continue, as Emad Hasan and Aondover Tarhule reveal. New satellite technology shows there's a looming water crisis in the Nile basin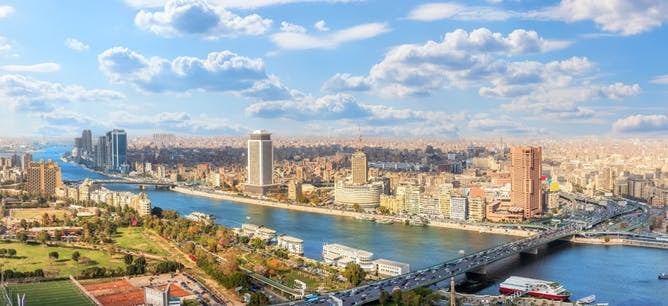 Cairo downtown panorama, view on the Nile and bridges, Egypt. AlexAnton/Shutterstock
Across the continent in Ghana, the Bui Dam is another big water project that has faced opposition. This had its roots in the negative environmental and social consequences of the hydroelectric dams built in the 1950s and 1960s. But Roger Gocking details how Chinese companies have contributed to a second era of major dam building in Africa.
The Middle East and North Africa is already the most water stressed region in the world. George Joffe warns that it's now facing a worsening crisis because of growing populations, irrigation and the consequences of climate change.
In urban areas, challenges of access to water can also be created by people. Anindita Sarkar shows how people in the informal settlements of Kenya's capital city, Nairobi, are trapped by highly unjust water delivery arrangements.
In rural areas, women and girls spend hours each day hauling water. James Winter and Jenna Davis assess how households in rural Zambia would benefit if water were to be available in their yards. And Jo-Anne Geere suggests how injuries and risks associated with water collection can be reduced.
Lastly, using Cape Town's 'Day Zero' drought as the backdrop, Romaric C. Odoulami, Christopher Trisos and Mark New explain how artificially dimming the sun, by injecting reflective particles into the upper atmosphere, could avert a similar situation in the future.