Climate change means hunger in our communities, COP26 African delegates say.
Africa is acutely vulnerable to climate change despite accounting for only four per cent of global emissions. The climate talks have come under scrutiny for poor representation from African nations, some of the most vulnerable to climate impacts.
As COP26 which closed this week in Glasgow, Mongabay reports that "activists and delegates from developing countries, including many African nations, have strained but so far failed to define the debate at COP26 as one of climate justice. They emphasize that developed nations have largely caused the climate crisis, while developing nations often suffer the worst consequences."
For Africa, COP26 was about a sustainable future for its 1.2 billion people. But, as the UN climate summit COP26 draws to a close it is sad to see that the 1.5C goal is looking increasingly unreachable. Rural African communities will have to brace themselves for more frequent and severe droughts and floods, with generally lower rainfall. They will need to use their natural resources as efficiently and sustainably as possible to survive. As Mongabay Africa correspondent Malavika Vyawahare writes:
"The climate talks have come under scrutiny for poor representation from African nations, which are most vulnerable to climate impacts. Lack of funding, COVID-19 restrictions, changing travel requirements, and Britain's immigration system limited the participation of delegates from some countries. An estimated two-thirds of civil society organizations who usually send representatives to COP have not sent them to Glasgow this year, possibly making COP26 the whitest and most privileged climate summit ever, according to activists.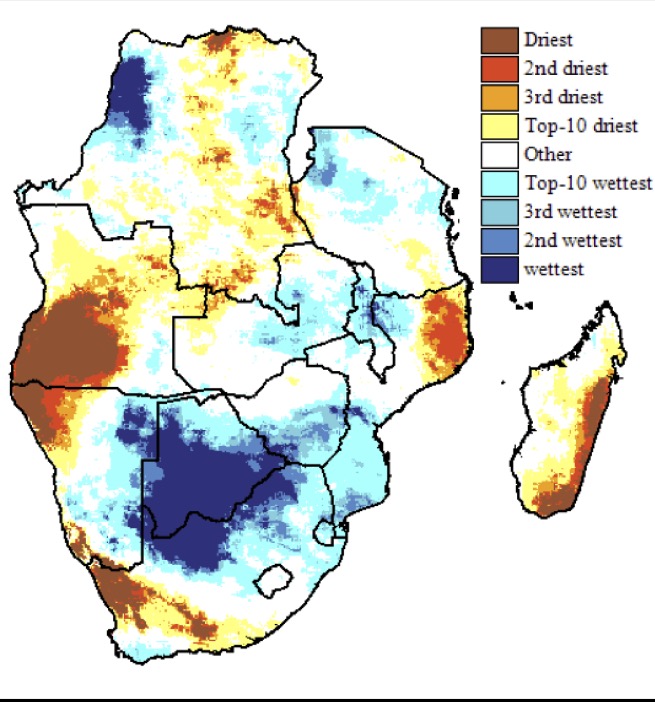 A map of southern Africa with October 2020 to March 2021 rainfall totals expressed as a rank showing whether it was one of the wettest or driest seasons since 1981. Image courtesy of Southern African Development Community.
Vyawahare quotes Community Leaders Network Executive Committee Member, Malidadi Langa, who works in his communities living around Kasungu National Park in Malawi, and who said he couldn't secure funding despite wanting to go. "Major decisions that affect the natural resources, whether it's wildlife, forestry, are made at a higher level at international fora," he said. "but they have a huge impact on local communities."
Langa said mostly international NGOs, backed by big-ticket funders, get to go to events like COP. "They will be speaking on behalf of my village, which we do not like," he said. "They end up misrepresenting our issues."