This article appeared in the Mail and Guardian (South Africa) 13 Mar 2019. By Maxwell Gomera, Liz Rihoy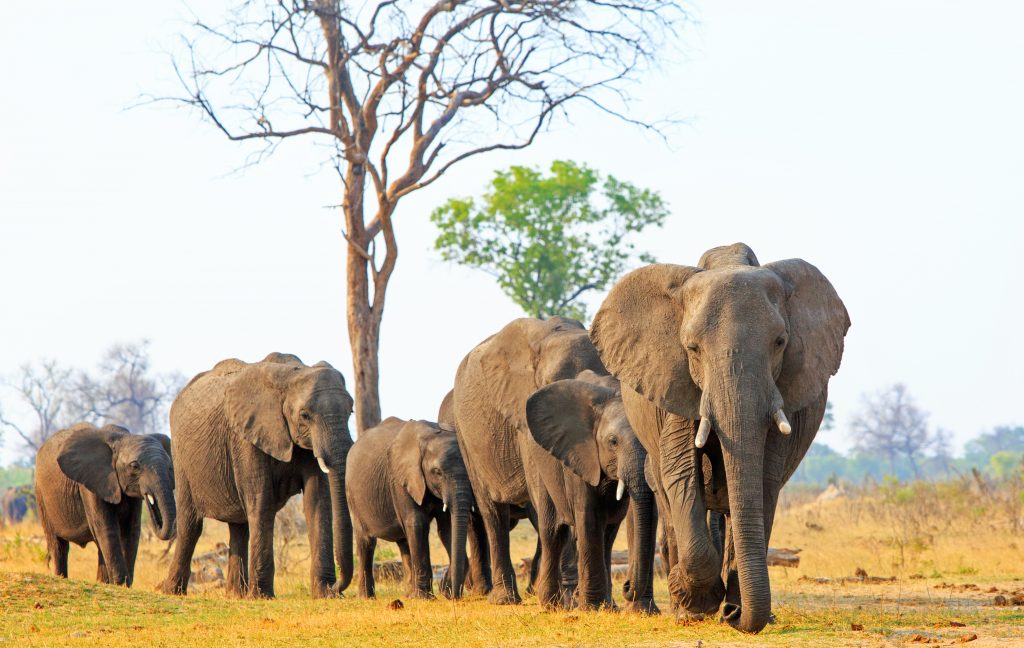 In 2014, the president of Botswana, Ian Khama, introduced a ban on hunting, saying it had contributed to poaching and "catastrophic" declines in wildlife, negatively affecting tourism. At the same time, the government sanctioned the unofficial use of a shoot-to-kill policy to deter poachers. But now, the country's new president, Mokgweetsi Masisi, is likely to roll back these policies.
Masisi asserts that he runs a consultative government and, after nationwide dialogue, his administration has announced 10 recommendations to address the effect of the hunting ban.
Topping the list is lifting the ban, ostensibly to enable the reintegration of wildlife into the rural economy. If successful, this would be a major shift in policy.
Over the past decade, some governments and some predominantly Western-based nongovernment organisations have focused on protecting wildlife using military might. The military approach, driven in part by an upsurge in poaching and illegal wildlife trade, considers that the best way to protect wildlife is to keep people and animals apart.
The result has left rural people stripped of incentives to conserve wildlife, but with many reasons to drive it off their land. It also led to the abuse of human rights, impoverishment and increased poaching.
In contrast, it was the integration of wildlife into rural economies that ensured Southern Africa developed the healthiest wildlife populations and habitat on the continent during the latter half of the 20th century.
Together Botswana, Zimbabwe and Namibia house two-thirds of Africa's elephants and, along with South Africa, are home to more than 90% of Africa's rhinos. In Namibia, more than 90% of the wildlife population lives outside protected areas and is there only because people want it.
Masisi's consideration of integrating wildlife into the rural economy should be applauded and supported. The problem that must be addressed is the troubled coexistence between poor farmers and wildlife.
Farmlands are rapidly expanding into wildlife habitat and, as a result, human-wildlife conflicts are rising. Crops are trampled, people die and wildlife is being killed in self-defence or for retribution. On average, 800 to 1 000 elephants die every year because of human-elephant conflict.
Although numerous state-protected areas exist, the majority of wildlife space lies outside of these. In Botswana, about 76% of elephants' range is outside of state-protected areas. This range is just over 60% for the rest of Southern Africa, and it is in these rural areas that 63% of Africa's poorest people live. They bear the costs of living with wildlife yet the rest of the world enjoys the bulk of the benefits.
Rural farmers who live surrounded by wildlife worry daily that their children may encounter buffalo or lions on their way to school or that their crops or cattle will be destroyed by marauding elephants. Africa's impoverished youth are among the most affected and often have precarious and limited livelihood options, which, at worst, include poaching. In Botswana alone, at least 52 people have been killed in shoot-to-kill anti-poaching efforts undertaken by the military and national park rangers.
Rain-fed agriculture is the number-one source of people's livelihoods in Southern Africa. Take the example of Victoria Falls in Zimbabwe. The economy of communal areas is 39% livestock and 41% crops. Any crop and livestock raids by wildlife have a significant effect.
Ensuring that wildlife contributes to this rural economy and reducing the cost of living with wildlife improves the prospects for both people and wildlife.
The first step in addressing the animal-human conflict must be to build a truce between competing stakeholders. This truce must align rural residents, governments and the global conservation movement in ensuring that the rights of people are acknowledged and that the benefits and the risks of protecting wildlife are collectively shared.
Botswana has an important opportunity to develop a truce that can benefit both wildlife and people. The government's public consultation lays firm ground for further dialogue. Such dialogue must take into account the legitimate needs and concerns of rural residents and simultaneously address concerns about upsurges in poaching. Experience has shown that reducing the negative effect of wildlife or offsetting it with benefits from conservation is likely to increase tolerance towards wildlife and improve human wellbeing.
ABOUT THE AUTHORS
Maxwell Gomera is a director of the biodiversity and ecosystem services branch at UN Environment and a 2018 Fellow of Aspen New Voices. @GomeraM
Liz Rihoy is a political scientist and director of Resource Africa UK. @lizrihoy